We are Capella Synergy a Marketing Consultative Agency in Swindon. Our objective is to initiate marketing innovation, inspiration and individuality in businesses of all sizes throughout the UK.
---
Whether you're looking to develop a new marketing strategy, or you need support delivering an existing one, our team of marketing experts will support you on your marketing journey and deliver effective marketing solutions to support your business objectives.
Our creative and inspirational digital marketing services include content marketing, SEO, social media management, PR, PPC and email marketing. The primary focus as a marketing agency in Swindon is to really get to know and understand your business. This allows us to apply the optimum synergy of bespoke marketing services to get your business performing.
We love to form strategic partnerships with all our clients' and have proven success in integrating within and being part of our clients' businesses in no time at all. It does not matter where in the UK you are located; we have proven success working with clients' right across the country.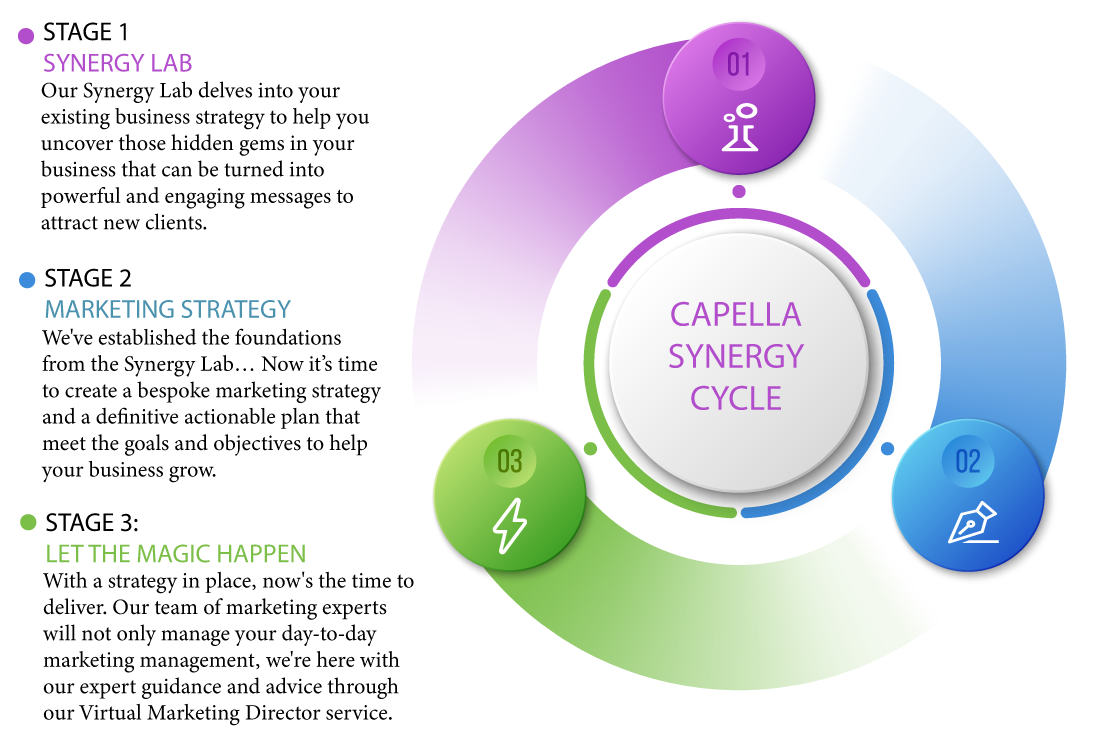 What our clients say
Suzi worked for inSwindon BID 8 years ago, and we invited her to return as our dedicated PR Consultant in March 2019. Her knowledge and experience have undoubtedly boosted our key messages - for the business community, our BID members, and also to the general public. She is an expert when it comes to helping us to raise the profile of Swindon Town Centre as a destination for business, shopping and leisure. Her flexibility allows us to work together strategically to support our objectives, and despite being a consultant, Suzi is 100 per cent a member of our team!

Capella Synergy have been a valued partner to me in my role as Marketing Manager. They adopt a friendly, flexible approach, proactively taking the time to gain a good understanding of our unique industry products, services and key messages. I trust them wholeheartedly with the effective management of our social media accounts.

Suzi has been kind enough to conduct a 'health check' on our hotel's social media pages as part of a HBAA promotion. Suzi was efficient in sending over the power point document that analysed each platform and gave suggestions on how to utilise the platforms further. I have found the advise to be so valuable and would highly recommend Capella Synergy.

Before we found Capella Synergy, we had a knowledge issue of how to connect with our prospects and customers seamlessly. Our social media channels were poor, with very little interaction. And then we engaged with Capella Synergy. Since we've been working with Capella, our output has seen a huge increase, the visiting traffic to our sites and posts have risen and onsite for our events, the team where able to capture detailed quotes and media to share across our communities. We've been so impressed, that we have renewed our contract. Well done!

We're delighted to be continuing to work with Suzi in her new position at Capella Synergy. Suzi was a valued member of our HBAA Committee for over two years, with a year of that steering the marketing Committee, helping us to raise the voice of HBAA in the marketplace. Suzi's all-round expertise and knowledge of our industry means she was best placed to continue supporting the HBAA through an exciting time for us as we continue to build on success.

Having previously worked with Suzi, I was delighted to hear that she'd made the decision to go out on her own. Suzi has a great understanding of our industry and her experience in developing marketing strategies is already proving to be effective within Venues and Events International. She's supporting us with our digital strategy by helping us to develop our online presence through our website and social media strategy. As an independent business, it's great to have Suzi back on board, helping us drive our business forward.

As an agency that's now one year in, I've recognised the need to increase my marketing activity to drive brand awareness within the industry. I've recently appointed Capella Synergy to support me on my monthly marketing activity where we work in partnership to generate interesting and relevant content around corporate events. This drive in marketing activity helps put The Events Raccoon at the forefront of my clients minds, as well as generating interest for potential future business.

I have recently set up my own business and have used Capella Synergy to assist me in the design of my website and supporting material. As a 'new' business owner and something I have never done before, it was difficult for me to know what was best to do regarding marketing material I needed. Suzi talked me through my options, offering no-nonsense advise and support until my vision was realised without making me feel out of my depth. I would absolutely recommend Suzi and Capella Synergy and will continue to use her in the future.